Buying a new TV can be an exciting, yet a confusing affair. While large, vibrant displays and sleek designs are attractive, the data-heavy specification sheets may leave you at a loss. TV jargons like 4K, HDR, OLED, and QLED can complicate matters further; making it tricky for you to identify which is the best TV that offers a right mix of affordability and features.
To help you pick an ideal TV, here is a handy TV buying guide that you can refer to. It explains essential terms and arms you with the knowledge needed to go TV shopping confidently. Read on to find the best flat screen TV for your home as per your viewing patterns.
Step-by-Step Formula to Choose the Best TV for You
Any TV buying guide starts with defining a budget and finding the right model that offers maximum benefits within the set range. Once you do this, consider your usage. For example, get the best smart TV, if you intend to stream video, or one with a high refresh rate if you wish to use it for gaming.
Screen Size: Find the Sweet Spot
Before you zero in on what your TV's size should be, decide where you'd like to place it. For instance, if your TV needs to sit in a small study room, then the dimensions are pre-determined. Alternatively, in other situations, you may have more leeway with choosing the size. However, the design of your space and proximity to the screen is also an important option to study. Consider realigning movable furniture within your living room or bedroom, and compare TV stands versus wall-mounted configurations to find the sweet spot within your home.
What is the right TV screen size?
There are some proponents of the view that bigger is better when it comes to your TV's screen. As long as it fits in your budget, the theory is that a larger display screen provides an immersive viewing experience, which you may not want to miss! Others advocate that there is an optimum screen size.
The best approach is always to aim for a bigger screen, but in the meantime base your final call by matching the screen size with the viewing distance that you prefer.
This step will ensure that you won't end up sitting uncomfortably too close to the display or find yourself with a smaller screen that doesn't look like the centre piece in your living room or bedroom. When calculating the best TV size, always keep in mind that screen sizes are measured diagonally.
How to calculate the correct TV size?
A formula, recommended by the Society of Motion Picture and Television Engineers or SMPTE, states that an ideal screen size equals the distance between you and the screen divided by 1.6.
Screen size = TV-to-viewer distance/1.6
So, if you sit 90 inches away from your TV's screen, this formula specifies that a screen size of 56.25 inches will be the perfect match for your bill. In this case, you can consider picking a 55-inch TV set.
Screen Type: Choose the best screen type
While plasma TV sets are almost out of the market today, the LCD TVs still offer options to those on a budget. LED, OLED, and QLED TVs offer better viewing, albeit at higher price-points. In simple terms, the type of display you settle for determines factors like glare, contrast, and viewing angles.
When examined more technically, you'll find that these displays differ in their backlighting options. The LCD TVs use CCFLs as a light source whereas LED TVs use an array of LEDs to light up the display. These may be in the form of a full array or in the form of LEDs placed along the edges of the screen. While edge-lit TVs are thinner, full-array sets have better picture quality.
The LED TVs also facilitate local dimming. This means that portions of your screen can be dimmed to give you a better contrast ratio. Also, while the best LCD TVs are more cost-effective, they have poorer viewing angles when compared to best LED TVs. So, if you are planning to watch the Cricket World Cup finals with a large group of friends, consider nothing but the best LED TV.
However, to up the ante and bring home, a cinema-like display, pick an OLED set that fits within your budget. Since OLEDs and QLEDs are relatively new entrants into the market, look at what features they bring to the table:
OLED Screen Type
Organic Light-Emitting Diode screens consist of millions of OLEDs that light up individually when current passes through them. Here, each OLED functions as an individual pixel. Since each pixel can be switched on or off individually, the contrast ratios are incredible. These sets are also extremely slim as they do not need an additional lighting source. They have better black levels and contrast ratios when compared with the best LED TVs.
QLED Screen type
QLED stands for Quantum dot LED. Here, an LED TV uses quantum dots to give superior brightness and a better colour range. As a concept, QLED was introduced into the market by Samsung. Since both OLED and QLED TVs come at premium price-points, you might wonder which one to pick. In terms of black levels and viewing angles, OLED wins, as QLEDs make use of an LED backlight. In terms of brightness and colours, QLEDs trump OLED displays.


Screen Resolution: 4K UHD, HD or Full HD?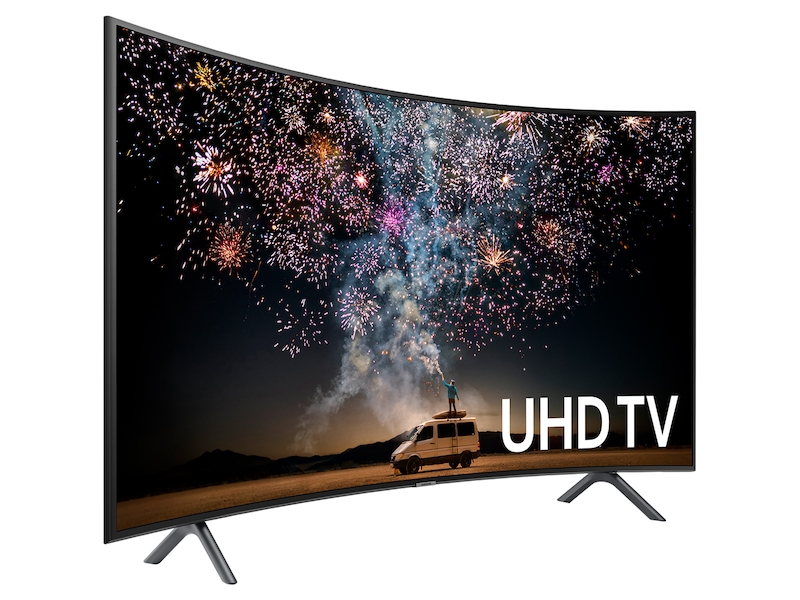 The terms 4K, HD and Full HD refer to a TV's resolution. Simply put, the higher the resolution of your set, the sharper and livelier the images will appear on the screen. For an instance, if your TV has 1920 pixels horizontally and 1080 pixels vertically, its resolution will be termed 1920×1080. One way to understand the advantage of having a higher resolution is to imagine what would happen if you have the opposite. Imagine this, if the feeds coming onto your TV set are displayed by a screen with a low resolution, then the images onscreen would appear blurry and distorted. Hence it is believed that higher the resolution, the better is your viewing experience.
4K UHD
What is 4K resolution: 4K UHD refers to a TV display that has a resolution of 3840×2160 pixels. In fact, these screens are four times sharper than the other Full HD variants.
Why you should choose 4K resolution: A sharper display means that you can enjoy the onscreen images/videos in great detail, even if you are sitting close to the screen. By offering greater engagement, the best 4K TVs redefine your viewing experience. The good news is that there is more UHD content available in the market, making this a viable investment. Thanks to streaming services, you can now make use of most of the functionality a 4K UHD set offers you.
Full HD
These are TV sets comprising a 1920×1080 pixel resolution. While they may be a fourfold downgrade when it comes to image crispness, Full HD sets aren't a bad bargain after all. This is mainly because you need an easy access to UHD content to enjoy the latest features of a UHD TV. If this isn't accessible, a FHD set will be the best option, and a more cost-effective solution.
HD
HD TVs are sets that offer you a screen resolution of 1280×720 pixels. Even the best HD TVs are in fact easy to afford and are best suited for standard definition content. Consider an HD TV if you're looking for a budget TV. If your budget is flexible, then spring for an FHD TV.
Judge your TV's image quality based on HDR
As you look for the best TV, a term you may frequently encounter is HDR. It stands for 'High Dynamic Range' and is one of the most sought-after TV features. HDR works on the premise that the higher the dynamic range, more accurate would be the image displayed. It means that your TV will offer a life-like viewing experience to you. Here, you get a wider colour gamut and a better contrast. As a result, layers that were previously indistinguishable on an older TV set will come to life on an HDR-compatible set.
It is important to note that HDR is a format and it comes in variations such as HDR10, HDR10+, HLG and Dolby Vision. Also, remember that you can enjoy HDR picture quality only when your TV is fed with HDR content. So whether you choose a Sony TV, LG TV, Lloyd TV, or Haier TV, always check for HDR support as well as your access to HDR content.
Refresh Rate: Is Faster Better?
The next part of the TV buying guide is understanding your TV's refresh rate. It tells you how many times the set refreshes the image on the screen in a second. In terms of your viewing experience, the higher the refresh rate is, the better is your viewing experience. In other words, if the refresh rate is higher, the motion blur will be very less. Some TVs offer you refresh rates of 60Hz. This means that the frame on the screen refreshes 60 times per second. More modern sets offer refresh rates as high as 120Hz.
Usually, movies are shot at 24 frames per second (FPS) and live TV shows at 30FPS or 60FPS. So, if your TVs refresh rate is higher than the content that's being fed to it, the TV uses algorithms, like interpolation, to create a smooth image flow.
While selecting a TV, choose a refresh rate that's good for the content that you intend to view. To do this, ensure that the rate is an even multiple of the FPS your content is filmed in. Though refresh rates on native displays do not go above 120Hz, you may find your TV set quoting a refresh rate higher than 120Hz. What is being spoken of here is an effective refresh rate. The TV in question uses technology to its advantage to give the appearance of a higher rate.
What is refresh rate listed as on a TV?
Manufacturers use their own terminology specifically to denote the refresh rates of their sets. Note that these are effective and not native screen rates. LG TVs use the term 'TruMotion' and promise a rate that is double the rate of a native screen. Similarly, Samsung uses the term 'Motion Rate' to denote the same specification.
Who should you buy a TV with a high refresh rate?
Pick a TV with a high refresh rate if you want to enjoy an intense gaming experience or watch fast-paced action on your TV, as the refresh rate presents every detail with precision.
HDMI and Connections
The single most important port that you should be looking out for is the HDMI connector. HDMI handles both video and audio, ensures high quality display, and makes older ports redundant. Here, a higher number of HDMI ports is preferable as you'll realize that they get used up very quickly. Add a gaming console, sound bar and a set-top box and you've used three already! HDMI 2.0 ports are ones that can handle 4K UHD content. So, if your usage demands it, ensure that you buy the best TV set with HDMI 2.0. Also, note that HDMI 2.1 goes further and delivers 8K content. This isn't necessary but is a good add-on facility.
Apart from HDMI, check for the USB ports too. These can be extremely handy in case you wish to display pictures or play music by connecting another device. Older analogue ports like S-video and RCA are useful only if you intend to connect your set to older game consoles and soundbars. Antenna-in ports should be considered only if HDMI won't do the job for you. Finally, look for Wi-Fi adapters and ethernet ports to ensure that the best smart TV gets fast-speed data connectivity.
Smart TV: What Is A Smart TV And Which Smart TV Should I Buy?
What is a smart TV?
A smart TV is one that can connect to internet and has its own OS. The best smart TVs go the extra-mile and offer computer-like features such as live video streaming and smooth internet browsing.
While a whole range of TVs are branded as 'Smart', not all of them offer the requisite features. For example, a particular smart TV may support content streaming via YouTube but may not allow you to install apps of your own choice on it. Similarly, some Smart TVs may be voice-enabled. This feature allows you to view information/programming using voice commands, while other TVs may not support this feature. Therefore, choosing the best smart TV then depends upon your usage and your focus should be to get the best facilities at a given price point.
Things to keep in mind when choosing the best smart TV
Here are some of the factors you should consider while selecting your best smart TV. In a nutshell, your smart TV must offer you speed, a plethora of multimedia options, browsing services and a seamless user experience.
Operating system (OS) and interface: The best TV will offer you an OS that's fast, not clunky or complicated, supports a wide range of apps (especially 4K apps), and lets you browse and shop online.
Remote and navigation: Communicating with your TV hinges on the remote, so choose one that lets you navigate seamlessly, and has a good mix of hot keys.
RAM, processor and storage: More RAM with a high processor speed, results in faster browsing and smoother app functionality. A high ROM is handy if your TV supports recording.
Phone mirroring and casting: This feature is essential, if you wish to cast games and movies from your phone on to your TV screen or use your TV screen for video calls.
Connectivity: To get the best out of your smart TV, get one that supports 2.4GHz or 5GHz Wi-Fi.
Sound Quality: Higher Watts Mean Better Sound
What sound specifications should you look for?
While testing the sound quality and evaluating it, you can abide by the thumb rule that the higher the wattage, the louder the audio output will be. Typically, dual 10-watt speakers that come with the best TVs suffice for a small or mid-sized room. On the other hand, 15-, 20- or 25-watt in-built speakers will take your audio listening experience to the next level.
However, audio output is said to be the Achilles' heel of modern TVs. The fine bezels and slim design mean that with reduced size, sound quality also suffers. Some TVs even tend to distort audio when volumes are raised beyond 70%. Therefore, if high volume and sound clarity are a priority, then pick TVs that offer Dolby Digital, DTS Premium or Harman Kardon sound technology.
Should you buy a soundbar with your TV?
If you are looking for a more immersive, theatre-like experience, consider investing in a soundbar along with your Sony TV or Lloyd TV. These are sleek, easy connect to with your TV using just a couple of cables and offers an enhanced audio functionality. Once done, you will get louder, richer sound and a better bass. Alternatives to soundbars are Home Theatre Systems, Sound bases, and Wireless Headphone sets.
Extended warranty: Save your money
When buying an expensive TV, a question you may ask yourself is whether you should purchase an extended warranty. Extended warranties promise you a peace of mind and covers mechanical and electronic defects after your regular warranty expires, making them a lucrative proposition.
Should you choose extended warranty, consider factors like the price, its duration, extent of coverage as well as the terms and conditions to ensure that you get a good deal.
Related posts