We are often asked for television recommendations, and it's getting harder to justify why someone should spend big bucks on a major brand in India. There was a time when the best features and performance were strictly the domain of premium TVs, but the budget segment has since defied such expectations. Today, many brands offer affordable televisions with big 4K screens, smart connectivity, and support for HDR. Indian brand Vu has gone a step further with the VU Cinema Smart TV and VU Premium Smart TV ranges.
Lets know about all details, specifications, features, prices and other details.
Vu 4K Ultra HD Cinema Android Smart LED TV With 40W Front Soundbar
Priced from Rs. 26,999 onwards, the Vu Cinema TV range is, to the best of our knowledge, the most affordable TV range with support for Dolby Vision HDR today. There's a lot more to these products as well, with 40W sound output, the latest version of Android TV, and apps for all the popular streaming services in India. On paper, all of this sounds great, but is it too good to be true? Find out in our review of the Vu 4K Cinema LED Android TV.
VU Cinema Smart Android TV Features and Specifications
Resolution: 4K Ultra HD (3840×2160) | Refresh Rate: 60 hertz | Voltage Requirement: AC 230 V
Connectivity: 3 HDMI ports to connect set top box, Blue-Ray players, gaming console | 2 USB ports to connect hard drives and other USB devices
Sound : 40 Watts output | Front Soundbar with 4 speaker | Dolby Audio Processing | Master and Tweeter speakers for directional sound
Smart TV Features : Official Android Pie 9.0 | Google play store | Google Eco-system (Movie, TV, Music, Games) | Google Games | Chromecast Built In | Multi screen share for Apple Phone Connectivity | Bluetooth 5.0 | Vu Help app for demo and troubleshooting
Display : Pixelium Brightness Technology | Intelligent Backlight for Deeper Black I 500 nits Brightness | Upscaler Chip | VOD upscaling | Dolby Vision, HDDR10, HLG | Cricket Mode | PC and Game Mode
Additional Features : Robotic Assembly | Bezel less design | Uniform Picture | Long Durability | Licensed Apps-YouTube, Netflix, Prime Video, Hotstar, Google Play | Hotkeys on Remote Control | ARC and optical port to connect external sound system
Warranty Information: 1 year warranty provided by Vu from date of purchase
Installation/Wall mounting/Demo will be arranged by Amazon Home Services. For any other information, please contact VU support on 1800-228-455
Easy returns: This product is eligible for replacement within 10 days of delivery in case of any product defects, damage or features not matching the description provided
The Vu Cinema TV's remote has hotkeys for Netflix, YouTube, Amazon Prime Video, and Google Play Movies. We often found ourselves using them, even though getting into these apps isn't too hard from the Android TV interface itself.
Vu 4K Ultra HD Premium Android Smart LED TV with Cricket Mode
Following the launch of its Cinema TV range, Indian television manufacturer Vu has now launched a new line of televisions in India. The Vu Premium 4K TV range is the latest in the company's product lineup, and is a part of its affordable feature-filled televisions available for the online market in India. Priced at Rs. 24,999 onwards, the Premium 4K TV range runs on the Android TV platform, and is available in three sizes: 43-inch, 50-inch, and 55-inch. The TVs will be available for purchase on e-commerce platform Flipkart.
VU Premium Smart Android TV Features and Specifications
This 4K TV from Vu comes with the Cricket Mode, which is a blessing for every ardent fan of the sport. Using a combination of optimum brightness and a host of other picture settings, this mode highlights the ball so that you can see it easily regardless of what the background is.
Thanks to Dolby Vision and HDR 10 technology, this Vu TV maximises the contrast as well as the colour accuracy of the content you're watching on it by enhancing the dark and the bright areas. And, since it is engineered for upscaling, smooth motion ratio, MPEG noise reduction, adaptive contrast and gamma correction, you can relish an immersive visual experience in 4K. Additionally, its UHD-certified resolution, HDR technology and Sports Mode upscale every content to help you see every single detail.
This TV's built-in box speakers, along with Dolby MS12 Audio and dbx-tv technology, facilitate powerful acoustics to deliver an aural experience that complements its visual performance.
This Android TV boasts the OD22 slim design to offer you a distraction-free visual experience. You can not only set it up easily, but you can also connect it to USB, Wi-Fi, AV and HDMI devices, among others, without any hassle.Vu ActiVoice Remote
This TV is powered by the Android 8.0 operating system that gives you access to the Play Store, Google Games and various other apps, such as YouTube, Hotstar and many more. You can also take advantage of the ActiVoice remote to perform a host of actions, such as discovering different types of content, using just your voice.
This TV lets you access Google Assistant seamlessly. To do so, simply press the Google Assistant button on the remote control. So, the next time you want to search for movies and TV shows, you can ask Google Assistant to do it for you with a simple voice search. To top it off, it also allows you to control your smart home devices easily.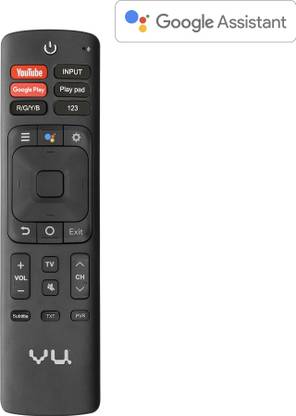 The Vu Premium 4K TV range also features a smaller, sleek remote with fewer buttons than on traditional remotes. The remote has hotkeys for Netflix, Amazon Prime Video, YouTube, and Hotstar, along with a Google Assistant button and a D-pad for navigation. Like other Android TV devices, the Vu Premium 4K TV range also has a built-in Chromecast for Google Cast support. There is also Dolby Audio tuning for the TV's speaker system.
Abhishek Dwivedi
A tech enthusiast who loves to read and write about science, technology and internet.
Related posts