Semiconductor Market in India
Somdutt Pandey, 1 year ago
0
5 min

read
379
Semiconductors are the fundamental building components of contemporary electronics, acting as the heart and brain. These semiconductor chips are now found in modern vehicles, home appliances, and critical medical devices like ECG monitors.
Over the last few years, India has placed a strong emphasis on indigenous semiconductor chip manufacture. Although there are several attempts in this area, they are insufficient. India need a Semiconductor Diplomacy Action Plan to become self-sufficient in chip production.
Why Are Semiconductors So Important?
The lifeblood of the current information era is semiconductor chips. They make it possible for electronic devices to calculate and control operations that make our lives easier.
The careful semiconductor chip manufacturing process is a good illustration of worldwide collaboration during peacetime.
For example, it is not impossible to conceive that the chip in our gadgets was created by a Japanese engineer using Dutch technology at an American foundry in Taiwan to make wafers that were then transferred to Malaysia for packing before being shipped to India as a finished product.
These semiconductor chips are the driving force behind ICT (Information and Communication Technologies) development and one of the primary causes of the present global flatness.
Semiconductors are employed in essential infrastructures such as communication, electricity transmission, and so on, all of which have consequences for national security.
With deeper integration into the global value chain, the development of the semiconductor and display ecosystem will have a multiplier impact across many sectors of the economy.
In the Semiconductor Market's Growth Story, Where Does India Fit?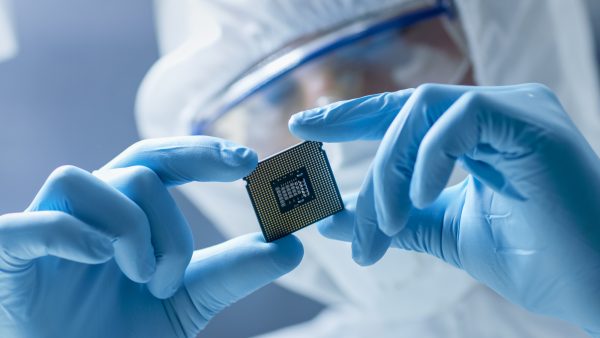 All chips are now imported into India, and the market is expected to reach $100 billion by 2025, up from $24 billion today. India has lately undertaken numerous projects aimed towards indigenous semiconductor chip manufacturing:
The Union Cabinet has set aside Rs. 76,000 crore to help establish a "semiconductor and display manufacturing ecosystem."
For the manufacture of electronics components and semiconductors, India has created the Scheme for Promotion of Manufacturing of Electronic Components and Semiconductors (SPECS).
The MeitY also announced the Design Linked Incentive (DLI) Scheme, which aims to support at least 20 domestic semiconductor design businesses in achieving a revenue of over Rs.1500 crore in the next five years.
Given that the global semiconductor business is expected to be worth $1.2 trillion by 2030, India must be well-positioned to capitalise on it.
The recently announced Semicon India initiative, which offers $10 billion in fiscal support and other non-fiscal measures, is a positive move.
As a result of the United States' allegations against China for worsening the Covid-19 and India-China conflict, as well as recent developments, numerous multinational corporations (MNCs) are shifting their production out of China.
This is an excellent opportunity to establish India as the right choice for setting up production houses for semicon chips.
What are the Problems with Domestic Semiconductor Manufacturing?
Certain countries have a stronghold:
Few locations have significant semiconductor manufacturing capacity. Taiwan and South Korea account for virtually all leading edge (sub 10nm) semiconductor production capacity, with the former accounting for over 92 percent.
Furthermore, East Asia and China account for 75% of semiconductor production capacity, posing several issues and making several nations vulnerable to a few.
The short version is that India and the great nations may face times of tension and conflict.
India requires more than simply smart technology to maintain its autonomy.
Investing in Western Businesses:
Despite having strong chip design capability, India has never developed chip fab capacity.
It will also need persuading western businesses to establish advanced silicon fabs in India.
The arrival of multiple semiconductor fabs in India, however, is insufficient.
It will also necessitate striking a balance between seeking 4 globalisation in this sector and ensuring that Atma Nirbhar Bharat's mission is not jeopardised.
How may India's Semiconductor Diplomacy assist in resolving this issue?
Taking Advantage of Recent Opportunities:
India has a unique chance in this decade because: Companies are striving to diversify their supply chains and find alternatives to their Chinese bases.
Chip shortages caused by Covid-19 will cost automakers $110 billion in revenue in 2021.
The Russia-Ukraine conflict, which has ramifications for semiconductor raw material supplies, has prompted chipmakers to invest in strengthening the semiconductor supply chain; India must seize this opportunity and position itself as an attractive alternative destination for semiconductor manufacturing.
Designing A Semicon Diplomacy Action Plan:
It is critical for India's foreign policy to prioritise semicon diplomacy, both strategically and economically.
The construction of a semiconductor value chain would have a multiplier effect on the overall economy.
Furthermore, because electronics are one of the most heavily imported things, second only to oil and petroleum products, local manufacture would save currency and reduce the balance of payments, particularly in relation to China.
Bringing Semicon Diplomacy and Act East Policy Together:
India's Act East Policy, which aspires to create robust connections in the Asia Pacific region, relies heavily on semicon diplomacy.
Given the concentration of semiconductor production and testing bases in East Asia, the Act East policy gives a chance to interact and build connections with important regional companies.
At the same time, keeping a bigger perspective in mind, frequent technology exchanges between a regional bloc such as ASEAN via tracks at forums such as the East Asia Summit and the ASEAN regional forum will be advantageous.
QUAD's Semicon Diplomacy Potential:
Increasing global and bilateral collaboration is one method to leverage semicon diplomacy. The Quad is an important institution with enormous potential in this respect.
Due to its abundance of semiconductor-related raw materials, Australia may be a valuable supplier to India.
The United States and Japan may be used to expand capacity and provide sophisticated semiconductor technology in the logic and memory divisions.
The Quad Semiconductor Supply Chain Initiative is an excellent place to start; India should press for the creation of a Quad Supply Chain Resilience Fund to protect the supply chain from geopolitical and geographic concerns.
Increasing Semiconductor Hub Engagement:
Technical partnership with Vietnam is important since it has numerous technical research and academic institutes in the field of microchip design and development, as well as a large pool of qualified and experienced workers.
A strategic partnership with Taiwan, a leading global hub for semiconductor design and manufacturing, as well as leading semiconductor chip producers such as Taiwan Semiconductor Manufacturing Co., which serves Apple, Intel, AMD, Nvidia, and other conglomerates, will be a good start in this direction.
Somdutt Pandey
A geek who has keen interest in cooking delicious news and stuff related to latest tech explorations and gadgets reviews.
Related posts